BainUltra offers six therapies designed to enhance your personal care sessions and experience a new "ART OF LIVING" focused on relaxation, health and well-being.

Powerful air jets strategically located at the base of the tub deliver a therapeutic acupressure-based massage that triggers a chain of beneficial physiological reactions from head to toe, reducing tension, relaxing muscles, combating stress and eliminating toxins.
Hydro-thermo Massage
Find out more about the powerful effects of Hydro-thermo Massage® in this video.
Revolutionizing Air-Jet Baths
Geysair® is a one-of-a-kind technological innovation that envelops the bather in a feeling of warmth and well-being. Much like hot water spouting from a geyser, the streams of air help maintain a consistently warm water temperature. A longer, more comfortable bath delivers increased therapeutic benefits. The Geysair® system is included in all ThermoMasseur baths.
Geysair® Technology
Presenting BainUltra's latest technological innovation: the Geysair® system.

Chromatherapy is the therapeutic use of color (light) to bring about positive physical, mental and emotional changes
A scientifically proven technique, chromatherapy is not merely a decorative element. Rather it has a direct effect on one's physical and psychological condition.
As a powerful way to achieve balance and harmony, color through its vibrations can calm, energize, or focus your thoughts.
Six colors : blue, violet, red, orange, yellow, and green. The colors are calibrated at different frequencies, each with a stimulating or soothing therapeutic purpose.
ILLUZIO
Meet ILLUZIO, a new Chromatherapy system exclusive to BainUltra! Imagine a sleek, pristine bath...
ILLUZIO
With BainUltra's characteristic innovation and creativity, ILLUZIO, a NEW chromatherapy system has been developed with hidden LED that leaves the bath's inner shell completely intact and smooth.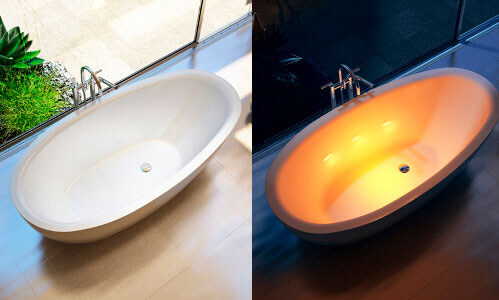 Aromatherapy is defined as the practice of using essential oils extracted from flowers, bark, or leaves to enhance physical and psychological well-being. Aromatherapy is an integral part of the Vedana® care unit and a beneficial option with all baths.
Distilled and diffused essential oils enter the bather's respiratory system and reach the circulatory and lymphatic systems, where they interact with cells to promote healing.
Some of the benefits of aromatherapy include :
Reducing your stress levels and anxiety
Bolstering your immune system
 Different Essential oils carry different therapeutic properties.
Aromatherapy
Watch the Aromatherapy video and see all the benefits of choosing the aromatherapy of BainUltra.
Aromaflow
Discover the next evolution of aromatherapy in the bath with AromaFlow. The AromaFlow is an essential oil diffuser that combines the benefits of aromatherapy while being elegantly included into the bathtub's integrated overflow.
Easy-to-use seamless design, the AromaFlow offers a beautiful and therapeutic way to enjoy essential oils with your BainUltra bathtub*.
One to two drops of essential oil are enough for a 30-45 minutes session.
*Offered as an option in all collections except BeOne, Balneo, Celestia, and Opus.
AROMAFLOW
Essential oil diffuser.
AromaCloud
The AromaCloud, an essential oil diffuser integrated into the bath deck, diffuses a delicate mist of water and essential oils.
Controls : The bather activates the AromaCloud manually, using controls separate from the other technologies.
Usage : One to two drops of essential oil are enough for a 30 minutes session. 1 packet of essential oil is included.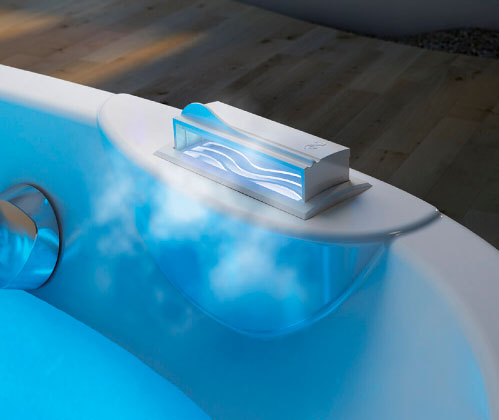 Light Therapy® consists of using natural or artificial light to treat various health problems.
Daily exposure to light influences the cycle (Circadian rhythm) that regulates the production of serotonin and melatonin—two hormones essential to physical and psychological balance.
 A daily 10 minutes session of Light Therapy can have a remarkable energizing effect.
Some of the benefits of Light Therapy include :
Regulating the circadian cycle, for improved sleep
Increasing your ability to concentrate
Improving mood
Reducing the effects of jet lag
Be fully informed
While light is beneficial in itself, certain recommendations should be followed. Use only systems that have been specifically designed for Light Therapy like Vedana by BainUltra. Avoid ordinary lamps. For treatment of seasonal depression or retinal problems, consult a doctor before therapy.
Light Therapy
Watch the Light Therapy video and see all the benefits of choosing the light therapy of BainUltra.

Thermotherapy®, the therapeutic use of heat, helps relax the body and promote healing.
WarmTouch Shell®
BainUltra's WarmTouchShell® technology features 3 heating zones built into the bath's inner shell. These heating zones transmit and circulate continuous heat to the headrest, backrest and seat. They touch and warm the body's most sensitive areas, providing a deep feeling of relaxation from head to toe.
Exclusive to BainUltra, the WarmTouchShell® heating zones are certified UL/ULC.
They warm up to 38.5◦C (101.3◦F) in less than 4 minutes, and maintain that temperature for the desired duration of your session.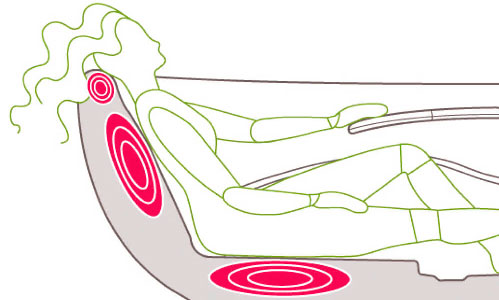 Sound Therapy® is the use of music (various wavelengths and frequencies) to re-establish physical and emotional equilibrium.
These sounds can be appeasing, calming, energizing, or other, according to the desired effect. Sounds have multiple sources such as music, singing, humming, toning, and chanting and are produced using voices, intruments, or electronic devices.
Depending on its musical composition, Sound Therapy can :
Reduce stress
Improve symptoms of depression
Stabilize mood swings.
Music, through its vibrations, has the power to modify molecular structure, because our tissue, bones, and organs are in a constantly vibrating state. In a healthy body, all the different parts vibrate harmoniously.